The Front of the T-Shirt for 'Bike For The Cure XX'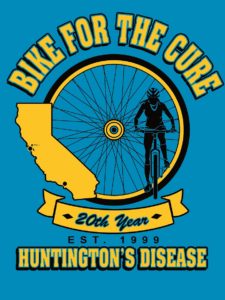 This year's limited edition long and short sleeved T-shirts are available along the route, at the Convention, and by mail. The design is courtesy of Screen Image in Grand Junction CO.
The names of our ride sponsors and a grouping of "In Loving Memory" names are featured on the back of the T-shirt.
Send check to Marie Nemec (address below). T-shirts cost $20 (whort sleeves adult sizes Small – XXXXL) or $25 (long sleeves, any adult size.) Postage is $4/shirt.
MAKE CHECK PAYABLE TO "Huntington's Disease Society of America." Mail check to:
Marie Nemec
Bike for the Cure XX
3087 – A 1/2 Road
Grand Junction CO 81503