Day 14 – June 22 – Bike for the Cure XIX – Chicago to Schaumburg IL
Got to sleep in this morning until 6;00 a.m. Had some cereal and fruit for breakfast. Got to visit a bit more with Andrea. Jeff was up but didn't seem to be a morning person. Andrea left for work as a probation officer. Isabel still asleep as a 12 year old.
Got gear and bikes loaded up for the drive out to Park Ridge. Charlotte has arranged for a gentleman named Al Gibbs to lead us from Park Ridge to the Convention Hotel in Schaumburg.
Everyone's GPS now seemed to be working and it was fairly easy to wend our way to Lois' Diner where we were to meet Al at 10:00 a.m.
Got the bikes unloaded and ready, and then parked the van. Left it there in Park Ridge. All four of us followed Al as he lead us in and out of subdivisions, along residential streets, etc. It took about two hours of riding to get to the Convention Hotel (The Renaissance by Mariott). Very windy which slowed us down.
Arrived about 12:30 p.m. No real "welcoming committee" to meet us, just the still photographer and the videographer. Dave Hodgson and Bob Leck were outdoors too.
We weren't able to find anyone we knew to drive us back to Park Ridge to pick up the van, so Alina said we should use "lyft" (similar to "uber"). She contacted them through her cell phone and in less than 5 minutes a lyft driver named Sean arrived in his Nissan. We left Alina and Charlotte with the bikes and they checked in. Sherri and I rode with the lyft driver back to Park Ridge. He dropped us off right near the van. Not too expenseive really – $23 plus change. 20% goes to lyft, and the driver pockets the rest.
Sherr's GPS was working fine, so we easily navigated back to Schaumburg and the hotel. Unloaded all our gear onto a lobby cart. The parking was easy, in a free lot (no parking structure limitations, etc).
Started seeing various friends from past Conventions. It's like "old home week" at Conventions, like a family reunion.
As usualy, the Team Hope Walk was at 6:30 p.m. Sherri and Alina did the walk; Charlotte and I did not. After the walk, there was salad and deep dish Chicago pizza available, plus funnel cake. Some opening remarks by Dr. Aric Johnson, the Chairman of the HDSA National Board of Directors.  Our "Bike for the Cure" riders were called up to the front and introduced to a nice round of applause.
Hard to believe this year's ride is over. There is always something to look forward to. Looked at our program booklets, and the 2018 Convention will be in Los Angeles at the Los Angeles Airport Marriott on June 7 – 9. I had guessed that next year's Convention would be on the West Coast, so I was right!
Thanks to each of you who "rode along" with us on this year's journey.
And thank you to all who donated to HDSA through our ride. Just about $22,000 was donated this year, which exceeded my original goal of $16,500 by $5500 and I do expect a bit more.
With love from Schaumburg,
Marie
The riders, just before getting to the Convention site: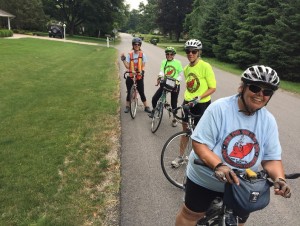 ---
Day 15 – Friday, June 23 @ HDSA 32nd Annual Convention in Schaumburg, IL
I know these next few messages are over a week late, but I did want to write a little for all you faithful who have "ridden" along with me for 2 1/2 weeks.
Since the sessions didn't begin until 9:00 a.m., we were able to "sleep in" again (a treat after two weeks of awakening at 4:00 a.m.). Charlotte and I had breakfast in our hotel room (cereal with banana and milk).
Went downstairs to the main general meeting room. Dr. Arik Johnson, the Chairman of the HDSA Board, welcomed everyone. The Keynote Address was given by our friend and former participant (in the 2006 Midwest Meander ride) Shana Martin Verstegen. I first met Shana when she was about 18 at my first HDSA National Convention in Denver in 1998. I think she and Cathy Colyer Harrell were the only teens there. Shana was at risk until about 3 years ago, when she tested negative for inheriting HD from her mother Debbie. Shana is now married to her wonderful husband Peter. They have a 2 year old son Grayson George who is a little doll. Shana is a world-class log roller and fitness buff. She spoke about the importance of movement in our lives.
After the break, I attended a session on research "Demystifying Clinical Trials: what's it like & why do they need me?"
Lunchtime celebrated the work of the HDSA's Chapter and Affiliate volunteers. Lots of awards given while we had a nice lunch with chicken, asparagus, and potatoes.
I skipped the first afternoon session to take care of some housekeeping. I walked both Charlotte's and my bikes out to the van and loaded them into the cargo area. It was very windy (as usual).
I attended a session on "Managing your Cognitive Symptoms" which was fairly informative. For many folks I know, the cognitive symptoms seem to manifest themselves first, before the movement component.
At 5:00 p.m. was the screening of the HDSA film "Her Mother's Daughter." The film featured Allison, a 12 year old girl with Juvenile HD and her grandmother who is her caregiver. Allison's mother Megan passed away earlier this year of HD. Heart-wrenching. This video is going to be sent out to all Chapters and Support Groups later this year. It is a real tear-jerker.
Dinner was choices from a concession stand (hot dogs, salads, fruit, juices, etc). I had a Caesar salad that I ate the chicken off of and gave the salad to Charlotte.
Charlotte and I did not attend the NYA Talent Show. It had been a long day. Sherri attended, as did Alina. It was Sherri's last night with us, as she has an early morning flight out of Midway Airport (which is farther from the hotel than the O'Hare Airport).
Sold a couple of t-shirts we had left over from the ride.
First full day of Convention. Have met a few new folks (like Kinser Cancelmo) and renewed relationships of others we have met at prior conventions.
Good night, Elizabeth, John Boy, Mary Ellen, Olivia, Jason, etc.
With love from Schaumburg,
Marie
---
Day 16 – Saturday, June 24 @ HDSA 32nd Annual Convention in Schaumburg, IL
Got up at 4:00 a.m. to say good-bye to Sherri. She called for a cab to get to Midway. Hugs and fond farewells for her … until we see her the next time. She is flying to Spokane WA and then driving home to Lewiston ID.
Back to sleep for awhile, then up again. Breakfast downstairs in the main meeting room; buffet style with choice of "Egg McMuffin," bagel, fruit, juice etc. At 9:00 a.m. Dr. George Yohrling, the HDSA Senior Director of Mission and Scientific Affairs, welcomed the participants. Dr. Elena Cattaneo (from Italy) gave the keynote address about the importance of keeping science free from too much political influence. She was appointed a "lifetime senator" to the Senate in Italy. She was also instrumental in arranging for people in the HDCommunity to meet with Pope Francis on May 18, 2017 in Vatican City.
At 11:00 a.m. we heard the latest in research from Drs. Ed Wild and Jeff Carroll, who run "HDBuzz," which was started in 2010.  Dr. Wild gave a brief history of HD. He told us about the newest HD drug – AUSTEDO – which is an improvement on reguar tetrabenazine. He also spoke about the new drug from IONIS, which is given by spinal injection, and having positive results. It aims to be "Huntington Lowering." He and Dr. Carroll both feel like we are getting very close to a major breakthrough.
More research news was presented by other scientists. WAVE is an allele-specific targeting, and AZEVAN targets irritability, which is often the first recognizable sign of HD. These reports were given during lunch.
I attended a session on "Huntington Lowering Approaches to Treating HD" which was interesting but I couldn't absorb much more about research.
The second afternoon session I attended was "Life After Testing Positive" given by Social Worker from Cincinnati Mary Beth Bialic. She has lots of experience working in a "team" with others when results of testing are given to people.
I did not attend the last session of the afternoon. They were all geared towards Support Groups and none fit my situation.
I checked on the  quilted wall hanging which I donated to the NYA Silent Auction. A minimum bid of $200  was listed, but  the only  bid was $20. Someone wasn't paying attention and the wall hanging was awarded with a $20 bid!!! I reported the problem to Robert Coffey (who is in charge of the Convention), and making a long story short, he returned the $20 to the bidder and got the quilt back. I had well over $125 invested in it. People just don't understand the effort and cost that goes into something like that.
We readied ourselves for the Gala Reception and Awards Dinner this evening. Everyone dresses up and it's very nice. Chicken and salmon were the main course, with sprigs of green beans/asparagus and rice. Pineapple upside-down cake for dessert.
The National Awards were given before the dancing began. This year, there was a dance "caller/leader" with a microphone who kept everyone going. Mostly loud music with lots of jumping. No traditional waltz, line dancing (Electric Slide), etc. This is the one time a year that Charlotte lets loose and dances up a storm. Many different dance partners. I just sat and watched, and went upstairs at 10:00 p.m.
Another successful fund-raising/awareness ride has been completed. Time to start thinking about next year's Convention in Los Angeles.
With love from Schaumburg,
Marie
---
The Drive Home – Day 1 – Bike for the Cure XIX – Schaumburg IL to Lohman MO
Up about 5:00 a.m. We had pretty much organized our suitcases  last night. After eating cereal with banana slices and milk, we started the loading up process. I took what I could down with me, put it in the van, and then walked back to get our bikes that Sherri and Alina had used. Walked each of them ourside. Charlotte accompanied the porter with our gear on the cart. Got the van loaded up, then put each of the bikes on the bike rack. Pulled out about 6:30 a.m. to buy gas.
Got a call from Robert Coffey saying he'd gotten the quilted wall hanging. So, we turned around and drove 1/2 mile or so back to the hotel and got the wall hanging. Sorry donating the quilt to the NYA auction didn't go well, but I couldn't "give" it away for just $20 when I had well over $100 invested in it.
Decided not to get on any Interstates this close to Chicago so I found a good North-South Highway (State Hwy 59) which we took almost to Joliet. Then got on the I-55. Smooth sailing for a couple of hours.Passed turnoffs for many familiar towns: Dwight, Odell, Pontiac, Bloomington, Springfield. Decided to pull off at one of the Rest Stops.
While I was in the building, Charlotte was outside by the van. When I returned to the van, Charlotte was involved in conversation with a woman who introduced herself as "Chery Sackett." She had noticed the magnetic door signs on the van, and proceeded to tell us that she had lost her husband to HD and that two of her sons were now affected. We gave her one of our ride brochures, and continued to visit with her. She was on her way down state from Kankakee. What a blessing this meeting was; as Christians, both Charlotte and I felt it wasn't just a coincidence, that it was a "God job."
Continued on the I-55 as we approached St. Louis, then onto the 270 still in Illinois, and finally the I-70 in Missouri.
Decided to take a different route to Lohman. Got off the I-70  at Exit 175 and drove 15 miles South on State Hwy 19 to Hermann, where we had overnighted on Day 5. Turned East on State Hwy 94 which parallels the KATY Trail. Almost immediately, we passed the home of Becky Aldrich, who hosted us on Day 5. Wish we could have stopped.
Got to Jefferson City and onto US Hwy 50 Westbound towards Lohman. Found the home of Denise and Keith Ziegelbein easily. Seemed like "Old Home Week." Got to meet their daughter Nikole and her two children, Ileanna and Tyrus. Denise and Keith's son Adam was visiting, along with his wife and their three sons Bryce, Braden, and Brooks. We were thrilled to hear that Adam and his wife are now expecting a fourth child. Denise's sister Danielle and her husband Ed were there, plus Denise's parents Del and Art Ehrhardt. We had a couple of nice casseroles plus home grown green beans. For dessert we had home-made ice cream made by Del and Art. What a wonderful family!!!
We're about 1/3 of the way back to Colorado. Longer drive tomorrow but we will "gain" an hour as we pass from the Central to the Mountain time zone.
I didn't keep very good notes on distances this time. I think we drove about 300 miles in Illinois, and  about 150 miles in MIssouri.
With love from central Missouri,
Marie
---
The Drive Home – Day Two – Bike for the Cure XIX – Lohman MO to Burlington CO
Got up about 6:00 a.m. to say good-bye to Keith before he headed off to work. Denise fixed us toast, scrambled eggs, and bacon for breakfast. Yummy as usual.
Hard to leave, not knowing when we will be back in Lohman again. With the HDSA National Convention in Los Angeles next year, just not sure ….
Took US Hwy 50 West towards Kansas City. Stopped as usual at the Dutch Bakery in Tipton, where I always like to stop. They sell a certain brand of hand soap bars that I like, so I stock up on them.
Continued on to Sedalia, where we overnighted on Day 2 of the ride. Stopped for gas at a Casey's C-store. 87 octane gas was only $1.90/gallon, the cheapest we saw the whole trip.
Followed Hwy 50 into the Kansas City Metro Area, then merged onto the I-470, then the I-435 West. And then the rain started. Terrible downpour, the worst I have seen since 4 years ago in the Houston TX area on our way to the start of "Pedal the Gulf for HD." Visibility was non-existant. I had to pull off the Interstate because it was so bad. Sat it out a little, then the rain lightened. Merged onto State Hwy 10 to Leavenworth, where we drove a bit on State Hwy 59 and then got on the I-70. I have always found the KC area very confusing, and with the rain it was really scarry! Lots of praying going on.
Just a few miles on the Kansas Turnpike ($1.25 worth) before we got off in Topeka and continued on the I-70. Familiar territory, through part of the Flint Hills near Manhattan and on to Salina. Out on the Kansas prairie now, mile upon mile, passing familiar names of towns: Russell, Hays, WaKeeney (where we had lunch with Traci Wentling a couple of weeks ago), Oakley,  and Colby. The sky looked dark and threatening, but didn't think too much about it until we stopped for gas in Goodland. The gas pump had a radio that was broadcasting imminent tornado warnings around Oakley. So we were just about an hour ahead of the tornado! Yikes! By then we had passed out of the Central time zone and into the Mountain time zone.
Destination was Burlington, which is about 15 miles inside Colorado from Kansas. I had made a reservation at the Chaparrell Motor Inn which we found easily. Very handy, nice, and CLEAN. There was a map in the motel room and we were able to easily make our way to the Kit Carson County Carousal at the Fairgrounds. Unfortunately we got there too late to ride the Carousel and tour the museum. This was the 6th of 74 carousels manufactured by the Philadelphia Toboggan Company between 1904 and 1933. It was manufactured in 1908 for Elitch Gardens (in Denver) and cost $1,200 back then. It has rows of three animals, which are stationery (don't bob up and down). The speed it revolves at is 12 mph which is faster than most carousels. It was declared a National Historic Landmark in 1987. You can find more information at www.kitcarsoncountycarousel.com
Back to the motel. Charlotte ate out of the cooler and I got a roast beef slider at Arby's.
Last night "on the road."  Ready to be home …
Again, I didn't keep a real accurate mileage records, but I think we drove about 560 miles (across half of Missouri, all across the breadth of Kansas, and just into Colorado.)
With love from the Eastern Plains of Colorado,
Marie
---
The Drive Home – Day Three – HOME – Bike for the Cure XIX – Burlington CO to Grand Junction CO
Nice complimentary breakfast at the motel at 6:15 a.m. Then hit the road …
I-70 through Limon and another 7 miles NE. Took State Hwy. 86 across Elbert County, through Kiowa, Elizabeth, and Franktown and into Douglas County. Back to the city hustle and bustle. Got on the I-25, then the C-470 Westbound. Lots of construction which has only started in the last month or so.
Got on the I-70 near Morrison. Up through Idaho Springs, through the Eisenhower-Johnson Tunnels, down into Silverthorne, then up Vail Pass. Stopped for our last rest stop/snack. Through Glenwood Canyon and on to Parachute. One more potty break. Just another hour to go.
Arrived at home about 3:30 pm. Charlotte had left her car here, so we off-loaded her stuff and one of the two bikes. We have our monthly HD Support Group later this evening, so we brought the second bike to her then.
424 miles today.
So glad to be home. Lots of pleasant memories from the ride. Thanking God for all those who took such good care of us, providing overnights and occasional meals, etc. Also, thanks to well over 250 folks who donated to this year's fundraising effort.
I will send one more final report with donation total. We  just topped $24,000 on July 3. It's not too late to help us reach $25,000. Send a check payable to "HDSA" to me at:
Marie Nemec
Bike for the Cure XIX
3087 – A 1/2 Road
Grand Junction CO 81503
Or donate on line at www.hdsa.org/bikeforthecure
Dorothy  (from "The Wizard of Oz") had it right when she said, "There's no place like home."
With love and praising God, thanking Him for the blessing of yet another long distance bicycle ride for HD research and family services,
Marie
---
---