Day 10 – June 18 – Bike for the Cure XIX – Springfield to Bloomington IL
During the night, there had been thunder, lightning, and rain. Streets were wet when we left a little after 6 a.m. Great place to stay.
I lead the others out, guiding them until we were well out of town.  Saw the Lauderbach Giant on Wabash Street as we went by. Took a couple photos. Saw his brother later on today in Atlanta IL. Saw a bit of Springfield downtown as we exited on Old Route 66.
First town we came to was Sherman. Charlotte and I switched driving/riding there. I saw a street sign for the "Dirkson Parkway," named after Everett Dirkson from by-gone politics. I think he may have been the Speaker of the House at one time.
Just fields and grain elevators pretty much between Sherman and Lincoln. Town was (of course) named for "Honest Abe."
My favorite town today was Atlanta. It not only has an octagonal library built in 1908, but  a  40 foot clock tower. It is the home of the Bunyan Giant (formerly of Cicero, IL and brother to the Gemini Giant in Wilmington IL and the Lauderbach Tire Man in Springfield. Originally the Giant Statue held a muffler, but now he holds a Giant Hot Dog. (See the attached picture.) The town also has a yellow smiley faced water tower. You can read more about this quaint town at www.atlantaillinois.org/rt66/tourist_rt66.html  We had lunch in a lovely town park with shaded picnic tables and cornerstones and other markers from past buildings. Atlanta is the halfway point on Illinois Route 66. So now we are closer to Chicago than  to St. Louis.
McLean had a large trucker oriented Pilot Gas station. Lots of customers. It is just off the I-55 and is quite popular. I saw a Packard car, blue in color. I thought it was an early 1950's vintage.
Turned Left and went four miles to  Funk's Grove. Charlotte and I had stopped there in 2006 riding from Chicago to St.Louis after the Convention in Milwaukee. It is located 15 miles south of Bloomington (our destination for today). For more than 185 years, the Funk family has been making pure maple sirup from the native timbers. That is not a typo on "sirup." Hazel Funk Holmes indicated in her trust that that spelling was preferred by Webster's dictionary when referring to the product that results from the boiling down of sap, without the addition of extra sugar. We had met Glaida Funk back in 2006 when she was running the gift shop. She is still very much alive and "with it." She had finished her afternoon nap and saw the magnetic signs on the van, and came out to check it out. Charlotte and I visited with her for awhile, recounting our memories of our visit 11 years ago. You can check Funks Grove out at www.funksmaplesirup.com     Sirup is available March through August.
It was my turn to ride. Slightly uphill for about four miles. Kind of tiring. Ended up riding in front of a Nestle Candy Factory (formerly Beich Candy Factory). Bloomington is also the world's sole source for "Beer Nuts." It is the hometown of M*A*S*H*s "Colonel Black" (the actor McLean Stevenson) who grew up here, as did his kin, Adlai Stevenson. He ran for President in 1952 with his Veep Estes Kefauver. They lost to Eisenhower/Nixon. Adlai is buried here in Bloomington.
Found the Wesley United Methodist Church pretty easily. It is just a couple of blocks off of Route 66. Pastor Vaughn Hoffman is an avid cyclist. He and his wife both graduated from the University of Denver. His first pastorate was in the early 1980's in Crested Butte CO.
Alina and Sherri went out for dinner to Anju restaurant, a local favorite. Charlotte and I had peanut butter sandwiches and worked on our daily messages.
Found a dime today, so now Road Change is 12 cents.
Rode 22.65 miles today, and Charlotte rode 26.45      Sherri rode the whole route (almost 69 miles). Not sure on Alina. She is riding my old Miyata bike and it doesn't have a cyclometer.
Cool and comfortable here in the church. What a blessing the churches along the way have been.
With love from the road, Bloomington IL,
Marie
The Big Boy Statue (One of the few remaining):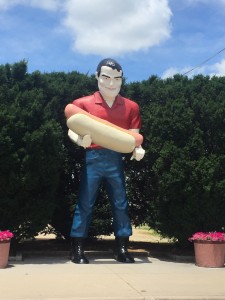 The Ladies catching a short rest: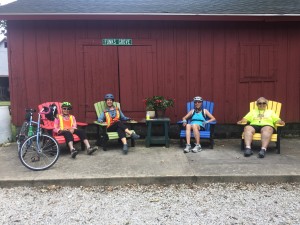 ---
Day 11 – June 19 – Bike for the Cure XIX – Bloomington to Pontiac IL
Up a little later than usual – 4:10 a.m. but we still got ourselves ready and out the door by 6:00 a.m.
As has become usual, I lead the others out of Springfield, following the Historic Route 66 signs. Quite a few turns but with everyone riding together, it wasn't too challenging.
Passed through Normal, home of the Iliinois State University. Don't know anything else about ISU.
A pleasant discovery was a paved bike path alongside the old Route 66 from Normal to past Towanda. Towanda is a tiny town but rich in Route 66 features. They use the now defunct roadway for a "Walking tour;" the above mentioned paved bike path is on top of a prior Route 66 alignment. Along the road, there were a couple of sets of signage which I will share with you.
"A beard that's rough and overgrown is better than a chaperone." Burma Shave
"Past schoolhouses
Take it slow
Let the little shavers grow"  Burma Shave
Passed through Lexington, Chenoa, and on into Pontiac. US Highway 24 passes through Chenoa; that is the same Highway 24 that passes through Grand Junction.
Arrived in Pontiac before noon. Distance was about 40 miles today. We are staying in the First United Methodist Church right downtown. Another large church. We were able to shower in the Methodist Care facility across the street.
Sherri and Alina took everyone's dirty clothes and went to wash/dry them at a laundromat.
Charlotte and I walked a few blocks to the wonderful Route 66 Hall of Fame & Museum. We spent two hours there, among memorabilia from the glory days of Route 66. We truly took a stroll down memory lane browsing through the pictures, artifacts, and stories of the road as it first began in Illinois in 1926. I particularly enjoyed the 40's house display. It reminded me so much of the house I grew up in (my Grandma's and Mother's house at 1829 N. Edgemont Street in Los Angeles). I loved seeing the display with paper dolls, Madame Alexander Dolls, Scrabble (invented in 1946 as Criss Cross Words), Tinker Toys (1914), and Erector Sets (1913). There were some beautiful photographs of places we have seen on prior trips on Route 66. Also enjoyed learning about Bob Waldmire, who spent his life creating art that celebrated the history of Route 66. Pixar's character "Fillmore" in the movie "Cars" was modeled after Bob and his VW van.
Back to the church. Eating in for dinner – tuna salad sandwich. Charlotte already had her infamous peanut butter/lettuce sandwiches. Sherri is eating a wrap she put together, and not sure what Alina is doing.
Route was just 38 miles today. Longer day tomorrow. Beginning to feel the excitement of the ride ending on Thursday. Just 2 1/2 more days riding.
With love from "The Mother Road" in North Central Illinois,
Marie
---
Day 12 – June 20 – Bike for the Cure XIX – Pontiac to Joliet IL
Typical early morning, packing up gear, etc. Some teen-agers were arriving at the church for a trip down to St. Louis' Six Flags Amusement Park (230 miles away).
After our prayer, I lead the gals out, but turned the wrong way on the first turn. Went about 1/2 mile and decided it wasn't the right way. Everyone had to turn around and go 180 degrees opposite, and then we did fine!
Headed East on Route 66/State Hwy 53. Charlotte rode on the better paved surface, and Sherri/Alina rode on the very old part of the original Route 66. Lots of cracks in the pavement with volunteer grass sticking up.  Just South of Odell there was a pull-out to view a rare, restored "Meremec Caverns" barn sign. Odell was the first town we came to; it had a nice restored  1932 Standard Station service station and other sights. As we rode in, there was  Burma Shave type signage which said "A small town, with a big heart, where everybody is somebody." Lots of confusion with everyone going different ways, but finally got everyone together. I started riding at the East side of Odell. Next town was Dwight, also nice. It has a beautifully restored Texaco station. The morning was still cool, with clear sky and some thin clouds.
Kept on Frontage Roads parallel to either the I-55 or railroad tracks. The Amtrak connecting Chicago and St. Louis usually has just four passenger cars. Seems to run quite frequently.
Went through Braceville (with a stop at Casey's C-store) and Braidwood. Somewhere along there was a nuclear plant. Near there, I discovered that the tires on my bike were low on air. Pumped them up and riding was much better. I will have to check them tomorrow morning to make sure the pressure is OK.
Finally saw the third of the 3 giant brothers, the Gemini Giant at the Landing Pad drive-in in Wilmington which is closed and for sale. There will be a photo of the Gemini Giant with this e-mail which I hope you enjoy.
Lunch a couple of miles East of Wilmington. Stopped later than we usually do, so everyone was very hungry.
As we approached Joliet, we went through a town called "Elwood" (Rebecca, Russell, Dorothy & Rich – hope you enjoyed learning that).
Traffic continued to get heavier and heavier. It made Alina very fretful. Finally we had to abandon riding for safety concerns, just as it began to rain. We loaded up the bikes and drove the rest of the 6-7 miles to the Messiah Lutheran Church where we are staying. Nice cozy facility. After showers, we had a local pizza  parlor  named Aurellio's (as opposed to one from Pizza Hut, Dominos, etc).
Lovely evening. Everyone doing her own thing. 1 1/2 more days of riding.
Today's route from Pontiac to Joliet was 57 miles, which Sherri rode. The rest of us rode differing miles. I rode 24 miles, don't know about Charlotte.
Found a dime today across the street from the Gemini Giant in Wilmington.
Guess this will be all for tonight.
With love from "The Mother Road" in Joliet, IL
Marie
PS – Thank you to each of you who has e-mailed me. It is very encouraging as we trek along. God bless you.
Another 'Gemini Giant':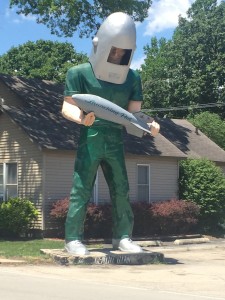 ---
Day 13 – June 21 – Bike for the Cure XIX – Joliet to Chicago IL
Usual morning routine. Excited to be closing in on Chicago. The plan was to use the Adventure Cycling map and take 3 different dedicated bike paths (the Old Plank Road trail, the Burnham Greenway Trail, and the Lakefront Trail to the terminus of Route 66.
We did not plan to follow historic Route 66 due to high traffic levels and safety concerns.
However, we couldn't get anyone's cell phone or computer to show us the maps, so after driving around and wasting about 1 1/2 hours, I pulled out the Adventure Cycling map. Problem was that was that US Hwy 30 (the old Lincoln Highway) had roadwork and we had to follow all the detours, but we did make it to the trailhead.
I rode this path, the first of 3 bike paths, with Sherri and Alina.  Before being converted to a rail-trail, the Old Plank Road Trail played a major role in the early transportation history of Illinois. For many years it was a trail used by those on foot or on horseback, later it was surveyed for use as a plank road**, and then a number of railroads ran passenger and freight trains over the route. Finally, in 1997, it became what we know it as today: a recreational trail, a nature preserve corridor, a green belt, an alternative transportation network.
The bike path  was primarily tree lined without much penetration from sunlight, so it was cool. Could have been wearing a jacket. The trail was well marked, and there was a fair amount of others out walking and bicycling. The trail crossed a fair amount of streets, so it was a bit of slow going due to having to check for traffic. About half-way, we passed through Frankfort, a quaint little town with sidewalk cafes and arches over the trail.
Finally made it to where we had agreed to meet Charlotte. She then rode with Alina and Sherri for the continuation onto the Burnham Greenway Trail. I drove to the area where we had agreed to meet, to gather additional infornation on the routing. I was so far West that the border with Indiana was only about two miles further.
By the time the riders reached our designated rendezvous place it was almost 2 p.m. We ate our lunch in the shade of a tree beside a large parking lot. We agreed reluctantly that we still had about 30 miles to go, and that it would be better to drive to the terminus of Route 66. Loaded up bikes, and drove on surface streets up into downtown Chicago. Too much traffic and no place to park so we didn't get the photo op we wanted  near Michigan Avenue and Adams, at the terminus of Route 66.
Lots of Northbound Traffic from downtown. Using the GPS on Sherri's phone (Charlotte's wasn't working) we finally made it to the home of our hosts Jeff and Andrea Korte and their daughter Isabel. Andrea had a good friend who died of HD. They live in a restored 100 year old house on a 25 foot wide lot. Jeff prepared a nice chicken crock pot meal with rice, some kind of  tasty peanut sauce, and salad.
Lots of varied conversations simultaneously. Things settled down about 9:00 p.m. Since we have a "short" day tomorrow, we didn't have to get up at 4 a.m.
Last full day of riding completed. I rode 20 miles, and I think Charlotte about the same.
With love from the "Windy City," which also used to be called the "Second City," but it's not any more. It was usurpted by Los Angeles and pushed down to be the "Third City" in population.
Marie
———————————————————————————————— 
For those interested, here is some more information I looked up about Plank Roads:
**What is a plank road?
A plank road is a dirt path or road covered with a series of wooden planks. Plank roads were commonly found in the Canadian province of Ontario, and the Northeast and Midwest of the United States in the first half of the 19th century. They were often built by turnpike companies.
Many of our Nation's roadways were once dirt and mud paths until the early to mid–1800s. A modern movement at that time called for the building of wooden roads, a great improvement in transportation. These planks-boards-were laid over the roadway on log foundations in various lengths, but most were eight feet long. Built for wagons, the width of the roads was 12 feet or more. In downtown areas the roads were wider.
Plank roads resembled a large set of train tracks in appearance, but felt and sounded much as boardwalks do today except most were wider than an average boardwalk. Early turnpike companies built these roads and there was often a toll charge of one to two cents per horse. The cost of building a plank road was from several hundred dollars to several thousand per mile, depending upon the climate and condition of the terrain.
Thank you Wikipedia and also https://www.fhwa.dot.gov/infrastructure/back0508.cfm
Ron
---