First day of driving – Bike for the Cure XIX – Grand Junction to Fountain (Colorado Springs) CO
By the grace of God, here we are, starting the 19th "Bike for the Cure" long distance bicycle ride for Huntington's Disease. Up at dawn to put the finishing touches on packing/organizing. Charlotte arrived right on time, 8:45 a.m.
This year, we are transporting four bicycles. Charlotte is loaning Sherri her "old" bike Annie, and I am loaning Alina my old Miyata. Two bikes inside the cargo area, and two on the rear bike rack, plus our gear, cooler, etc., etc., etc. Ron got everything loaded up, and we left about 9:20 a.m.
Took US Hwy 50 South, through Delta, Montrose, Gunnison, over Monarch Pass,  almost to Salida. Lots of reminiscing about past drives/rides along this route. Turned North on US 285 to just South of Buena Vista, then East on US 24 over Wilkerson Pass. Earlier today it must have snowed/hailed, as we saw lots of "white" long the sides of the road. Even saw 3 snowplows near Divide. Through Woodland Park and down into Colorado Springs. We were running about an hour later than I expected.
Stopped to visit my friend Bonnie Johnson. She and her husband own a fabulous bike shop in CS, aptly named "Colorado Springs Bike Shop." I became friends with Bonnie during the time Ron and I were living in CS, back in 1998-2001. They have a huge inventory. It's one of the largest shops I've visited.
Drove South on the I-25 to Fountain. We are spending the night in our friend Amanda Adams' 112 year old restored home. Amanda rode the "Border War on HD" ride with us in 2001, from Vancouver BC to Tijuana MX. She owns a wonderful bakery in CS – The Sugarplum Cake Shoppe.
We drove to Applebees and had nice dinners there, then back to Amanda's. We're all tired after a long day.
Drove a little over 300 miles. Van did great so far with the additional weight of two  bikes.
Anticipating a long day's drive tomorrow, across the Eastern Plains of Colorado and across Kansas.
Please keep us in your thoughts and prayers.
From the road, in Fountain CO,
Marie
---
Second day driving – Bike for the Cure XIX – Fountain CO to Olathe KS
Up about 5 a.m., showered, visited a bit more with Amanda, then left her home a little after 6 a.m. Familiar route in Colorado Springs North on Powers up to US 24, then NE through Falcon, Calhan (highest non-mountain town in the US), Rahma, Simla, and finally to Limon. Bought gas for the van. Got a pleasant surprise phone call from our grandsons Cael and Jett!!! They just finished school for the year yesterday.
East on I-70 towards the Kansas State line. Passed the "See 6 states tower" in Genoa CO (Colorado, Kansas, Wyoming, Nebraska, New Mexico, and Oklahoma).  Crossed from Mountain Time Zone to Central Time Zone, losing an hour. Got a phone call from a contact of ours from Dodge City KS. We met cyclist Traci in 1999. Although we hadn't seen her for 18 years, we have kept in contact. We arranged for a rendezvous at Jack & Chet's restaurant in WaKeeney KS. Met up with her at 1 p.m. So fun to get caught up with her.
Continued on the I-70 across Kansas. Lots of wind farms. Familiar town names and sights. So many museums in Kansas (examples: Orphan Train Museum, US Cavalry Museum, Kansas History Museum, the Eisenhower Museum,and the Combat Air Museum). That's just a sampling. Then, you could also visit the World's Largest Czech Egg in Wilson KS.
The miles flew by as we listened to "The Quilter's Apprentice" on CD. It's the first in a series of quilt related novels by Jennifer Chiavarini.
The Flint Hills were very green. Passed through Topeka (state capital) after rush hour – encountered no traffic. Took the Kansas Turnpike  Toll  Road which is superimposed with the I-70.
Followed the good directions of our hosts for tonight, Dale & Elli Franz. We first met them on the first Bike for the Cure ride in 1999. At that time, Elli was working at the American Bible Society. Charlotte and I stayed with them last year, renewing contact after 17 years. They have just moved from Overland Park to Olathe in a lovely brand new home. They have a special gift of mentoring young adults. We are sleeping in their finished basement tonight.
They waited dinner for us – checken, salad, and pretzel rolls. Yummy!
Drove 610 miles today. 924 miles in two days.
Keep us in your thoughts and prayer! Feel free to send encouraging e-mails to bike4cure@gmail.com
With love from the road, near Kansas City,
Marie
---
Third Day of Driving – Bike for the Cure XIX – Olathe, downtown Kansas City, airport, and arrival in Pleasant Hill
Slept in a bit at Dale and Elli's new home. Elli left for work before we got up. Got to visit with Dale and their other house guest Laura who they are hosting for Elli's 50th class reunion.
Loaded up our gear and headed for downtown KC. We are using the "OK Google" GPS on Charlotte's phone. Our destination was The  National World War I Museum and Memorial. If you're a history buff, this place is well worth seeing. We barely scratched the surface. Good introductory video. Just a few snippets of what impressed me.
Why is this national museum and memorial for WWI in Kansas City? In 1919, more than 83,000 people contributed to a fund, raising $2.5 million in 10 days
(More than $35 million in current dollars!) In 1921, the site was designted and the facility opened in 1926 in front of a crowd of 150,000 people, including U.S. President Calvin Coolidge.
1916 – Jeanette Rankin was the first woman elected to Congress; she was from Wyoming, which was a pioneer in women's voting rights.
U-Bots were called "unterseebots"
The US got into WWI on  April 6, 1917.
Wooodrow Wilson served two terms as President (1912 to 1916 and 1916 to 1920). His campaign mantra was "He kept us out of the war" but in his second term the US got into WWI.
Even though war is terrible, it had a positive effect on minorities and women in the military.
In 1916 there were only 15,000 Marines.
The Army Air Service had 740 aircraft and 800 pilots under the command of General William "Billy" Mitchell.
We took the elevator up the 217 foot tower. Had to climb 45 steps to the observation deck. We  got a good view of the KC skyline, including Union Station.
Outside, we could see the two Assyrian Sphinxes. "Memory" faces east towards the battlefields of France, shielding its eyes from the horrors of war. "Future" faces west, shielding its eyes from an unknown future.
The uniform artifacts were very interesting. So were the iconic posters which were popular for public relations.
Fitsimmons Medical Center in Denver CO was named after a Kansas doctor who was killed by German aircraft bombing.
"Flanders" by John McCrail was written in1915. It starts "In Flanders Fields the poppies grow."
Charlotte and I were there for about 2 3/4 hours but had to leave to drive to the KC International airport and pick up Sherri and Alina (Sherri on Southwest and Alina on United). Both flights were on time and the logistics worked out. So good to see each of them, as it had been a whole year since last year's ride and the National HDSA Convention.
Got them and their luggage packed in and headed down the I-495 towards Pleasant Hill MO. We are staying at the Pleasant Hill Methodist  Church. Huge church. We stayed in the Community Room. The church administrator had arranged for a reporter from their weekly newspaper to interview us.
Sandy Lozier arrived  from Omaha. Charlotte and I hadn't seen her in 3 years. Sandy and Sherri hadn't seen each other since both of them rode the "Rockies to Plains" ride from GJ to OKC in 2007. And Alina just met Sandy for the first time.
After the interview, we drove around, looking for the TrailHead for the start of the ride on Friday. Never did find it.
Had dinner at a Mexican restaurant (I think it was called "El Matador." Pretty good.
Back to the church. Their Zumba class was just finishing. Two of the Zumba gals came in and gave us donations. Amazing!
The ride is going to begin tomorrow. No one but Sandy really feels ready. She is training for a couple of other rides later this summer.
I'm writing this two days later, and I'm very tired after todays ride (Day 2) which will be coming to you soon. Please be patient.
With love from the road,
Marie
---
Day 1 – June 9 – Bike for the Cure XIX – Pleasant Hill MO – Windsor MO
We are beginning this year's ride on "new territory." The Rock Island Spur had its first beginnings in 1852 when its ancestor, the Chicago and Rock Island Railroad, operated its first train between Chicago and Rock Island IL. The Rock Island system eventually stretched across Missouri as far west as Kansas, Nebraska, Colorado, New Mexico, Oklahoma,   and Texas. With the addition of this spur, it is now possible to ride from the greater Kansas City area across Missouri to the greater St. Louis area.
When the railroad filed an official notice of intent to abandon the line, the Missouri State parks filed a request for interim trail use, setting the stage for eventual transfer of the property. This opportunity for a rail-to-trail project was made possible through an amendment to the National Trails System Act, which allows railroad corridors, no longer needed for active rail service, to be banked for future transportation needs and used in the interim as recreational trails.
The Rock Island Spur opened just 6 months ago, in December 2016.
Pleasant Hill was named for its "pleasant situation on an elevated prairie." There are some small cities along the way before it reaches Windsor: Medford, Chilhowee,  and Leeton.
We had a group prayer before we started riding (and me driving the van) to a spot we knew would get us onto the Rock Island Trail.
I drove the van to Medford while Charlotte and the others rode. Distance was 17.5 miles. I left the van for Charlotte at Medford, and then rode to Chilhowee, which was 10 miles. Then Charlotte rode from Chilhowee to Leeton which was about 7 miles. Then I rode from Leeton to Windsor.
We had to drive back towards Leeton on surface streets to pick up Alina. She was too tired, hot, etc. Finally got her loaded up. During this time, Sandy was feeling good and said that she would ride from Windsor to Clinton. We 5 finally got together in Clinton, much later than anticipated. Loaded up all 5 bikes (Sandy's on the roof rack).
Drove to the lovely country home of Elroy and Barbara Shumacher, who hosted Charlotte and me in 2008. Lovely house and lovely people. They arranged for a dinner at their church. Not too many people showed up, but it was still nice. Pat Gunter (whom we met in 2008) had on the ride t-shirt she bought back then. How special! Lots of hugs.
Back to the Schumachers. Showers and laundry!
Barbara and Elroy will be riding with us tomorrow before they drive to KC to buy a new van. Theirs was involed in an accident about a week ago.
Charlotte, Sherri, and I are sleeping at the Schumachers. Alina and Sandy slept  at the home of some friends of the Schumachers. Such a lovely home. I would like to have one just like theirs!
End of first day … everyone doing OK, but everyone tired! This message is being written just one day later. Hope I didn't forget anything important.
I will try not to get so backed up with these after the fact messages. Hope everyone understands. You will finally have all the daily messages when Ron sends them out to the distribution list and posts them to the website.
Donations have continued to dribble in. There's still plenty of time to donate. Check payable to "HDSA" and send to me at 3087 – A 1/2 Road, GJ 81503 or you can donate on-line at www.hdsa.org/bikeforthecure
With love always,
Marie
At Windsor, the Rock Island Spur connects to the rest of the KATY Trail.
Load up bikes, drive South to Clinton where we started our ride in 2008.
P.S. This is Ron. I have included a selfie of the ladies that they took just before they started out.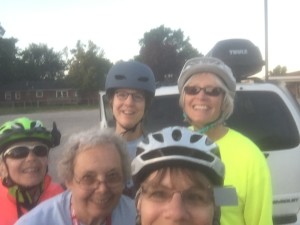 ---
Day 2 – June 10 – Bike for the Cure XIX – Start of the KATY Trail – Clinton MO to Sedalia MO
Up at 4:00 a.m., wonderful breakfast (Southwestern Style egg casserole, oatmeal muffins, fruit, juice, coffee). Alina and Sandy overnighted with one family, and we overnighted with the Schumachers who hosted us in 2008.
Today we are riding on the KATY Trail for the fourth time. First time was in 1999, when we got on the KATY Trail after having ridden the Santa Fe Trail from Santa Fe NM to New  Franklin MO. That was during the first "Bike for the Cure" ride. Second time was in 2004 (with Sherri Kole), and third time was in 2008 (Cycle the Heartland, from Clinton MO to Pittsburgh PA).
The KATY Trail is the longest rail-trail in the US – 240 miles. It provides a trail across nearly the entire state of Missouri. The entire length is a state park, well-maintained and full of historical markers and points of interest. It occupies a segment of rail corridor that once carried trains of the Missouri-Kansas-Texas Railroad (MKT, a.k.a. the KATY). Well over half of the KATY follows the Missouri River.
In 1986 the railroad ceased operations between Sedalia and Machens due to extensive damage from the Missouri Rivers floodwaters, eventually paving the way for the KATY Trail State Park. The Missouri State Parks acquired the railroad right-of-way through an amendment to the National Trails System Act. The amendment allows railroad corridors no longer needed for active rail service to be banked for future transportation needs and used in the interim as recreational trails. Construction began in 1987. In 1991 the Union Pacific Railroad donated 33 miles of rail corridor from Sedalia to east of Clinton.  The KATY was completed in 1996 after years of incremental additions. So when we first rode on the KATY in 1999, it was still fresh from the drawing boards.
This region was under both Spanish and French control before it became a part of the US through the Louisiana Purchase of 1803. Missouri became the "Gateway to the West," serving as the departure and return destination of the Lewis and Clark Expedition, which departed up the river in 1804 to explore Western territories. Actually, in 2004 when we were on the KATY Trail, we met up with the group that was re-enacting the Lewis & Clark Expedition, celebrating its 200th anniversary.
Clinton is the Western Terminus of the KATY Trail. It was platted in 1836 and named for New York Governor DeWitt Clinton, who was a key promoter of the Erie Canal. Population is about 9,000. It is the county seat of Henry County.
The elevation in Clinton is 780 feet. The high point of the Trail is 955 feet (between Windsor and Green Ridge). The 73 miles between Clinton and Boonville is the only part of the KATY that doesn't parallel the Missouri River.
Arrived at the KATY Trailhead. Barbara and Elroy rode with the group, from Clinton to Calhoun. The KATY Trail parallels Hwy 52  during the first 10 miles or so.
Lots of rural farmland bordered by swathes of trees and woodlands for much of the way.
Passed through Calhoun. Calhoun is named for John C. Calhoun, the 7th Vice-President of the US. Next town is Windsor. Windsor was platted in 1855 and originally known as Belmont. The town name was changed to Windsor in 1859, after the Windsor Castle in England.  Green Ridge is a small  quaint settlement. Population is 476. One of the stars of Hollywood Silent films (Pearl White) was from Green Ridge. She played "Pauline" in "The Perils of Pauline". It is also the home to  the Prairie Chicken. They need open grassland, tall enough for nesting and nearby feeding areas where adult and chicks can find broad leafed plants, seeds, fruits, and insects.
In Green Ridge I met a cyclist (Ana Castillo) who was riding the KATY on a 3 wheel recumbant tricycle.
The story of the name of Sedalia is interesting. Originally it was named "Sedville." "Sed" was the nickname of the town founder's daughter "Sarah." The town changed its name in part because "towns that end in -ville don't amount to anything" (according to Lawrence Ditton Sr.) Another account said the name change occurred for euphony. Sedalia is the home of Ragtime composer Scott Joplin. One of his famous works was the "Maple Leaf Rag." It is also the home of the Missouri State Fair. The train depot houses the Sedalia Chamber of Commerce, a railroad heritage exhibit and  bike rental and repair shop.
People from Sedalia are called "Sedalians."
Weather was good today. Had a pretty good tailwind the second half of the ride. It was fairly cool on the Trail with the trees creating lots of shade.
This is the first time I am riding with an e-assist set-up on my bike. I like it, but I have a tendency to overuse it and the battery power didn't last as long as I thought it would.
We all connected at the restored Railroad Station in Sedalia. Sandy arrived first, then Marie. Sandy will be leaving the group today to go back to her home in Omaha NE. A friend of Marie's from the HD On-line community, Ted Hatfield, drove out from Lee's Summit MO (with his new bride Norma). We loaded up Sandy's bike and gear and they took off to drive back to Pleasant Hill. Sandy left her car at the church there, and Ted/Norma drove her back there. Then Sandy will be driving back to Omaha. It was great having her with us riding. Sandy rode 3 days with us in 2006 and all of the ride in 2007 (Grand Junction to Oklahoma City). Sandy is a strong rider and a good friend; she will be missed.
We are staying in a Lutheran Church in Sedalia. The Pastor is letting us shower in a vacant home he has in Sedalia. He lead us over there , about 3-4 miles from the church. After showers, we came back to the church, unloaded the van, and got settled in the church basement. Alina and Sherri went out for dinner (pizza) and Charlotte and I worked on e-mail.
Three folks connected with HD showed up at the church. Mary Jane Faaborg and her husband Britt and  Mary Jane's sister Terry. Mary Jane tested positive and Terry tested negative. We visited with them for about an hour. They have participated in many research studies.
Spent the rest of the evening trying to get caught up on e-mail. Most of the time it is difficult to get the message written since usually it is very late and I am usually very tired. Please understand when I'm not as up to date as you might wish I was. I'm doing my best.
With love from Sedalia MO (on U.S. Hwy. 50, which continues West through Grand Junction).
Marie
---
Day 3 – Part 1 – June 11 – Bike for the Cure XIX – Sedalia to Boonville
Up early as usual (4 a.m.) Had breakfast in the basement of the Lutheran Church where we spent the night.
Sherri,  Alina, and Charlotte rode first. They rode from Sedalia to Clifton City and I drove the van. Not much in Clifton City. Clifton City was once known as "Devil's Half-acre" but I don't know why.  Originally it was called Cranmer's Mill. The name was changed in 1873. As usual, the Trail Head was very nice, with lots of photos and information about the area.
I left the van in Clifton City and rode to Pilot Grove. Most of it was a bit uphill. I think I am overusing the e-assist feature on my bike. Tried to pedal as much as possible. With not as much training as I should have done pre-ride, it's challenging. The trail was shaded most of the time, dappled with splotches of sunlight through the trees. Rode through a couple of very large metal culverts which were like fairly short tunnels. There were a number of bridges over some creeks, so the topography is changing.
Arrived in Pilot Grove. Population 800. It was platted in 1873 and named for an old-grove of hickory trees which once served as a local landmark or "pilot" for travelers. Again, nice pavillion in a quaint town.
Charlotte was getting ready to ride when I arrived. She left to ride the part considered by many KATY Trail users to be the most difficult stretch of the trail due to the uphill grades. Since I was going to wait awhile, I got the adapter out of the van and charged the battery on my bike for almost an hour. There was an electric outlet in the restroom. That was a first! Sherri and Alina arrived about 15 minutes after Charlotte left. They got some snacks at the Casey's convenient store, ate them and relaxed before they took off for Boonville.
I drove the van to Boonville. Even had to drive on the I-70 for awhile. Found the TrailHead pretty easily since I had been there 3 times previously. The railroad station is in Spanish style architecture and restored quite beutifully. When I arrived, Charlotte was resting on the bench under the portico. We loaded her bike and drove to the town house of Don and Sharon Meyer. We unloaded our bikes. Charlotte stayed to visit with them, and I drove back to the Boonville TrailHead and Sherri and Alina were resting   prone on the benches, like Charlotte had been. Loaded up their bikes and drove back to the Meyer's home in town. Sharon had prepared a lovely lunch for us: turkey and ham for sandwiches,, salads, fruit, tea. So thoughtful!
We changed into our clothes for touring the Warm Springs Budweiser Breeding Farm. We got tickets two months ago via the Internet. Had to drive 10 miles or so on the I-70 Eastbound.
You can read about our tour in the Day 3, Part 2 daily message. There might even be a photo!
Distance today was 36 miles. We had a tailwind some of the time, and it wasn't humid.  Most of the riding was on a shaded trail.
With love from Boonville,
Marie
---
Day 3 – Part 2 – June 11- Bike for the Cure XIX – Booneville – Warm Springs Ranch
Today we got to tour the Warm Spring Ranch in Boonville. It is the breeding farm for the Budweiser Clydsdale horses. It was previously located in Menafee CA, and relocated to Boonville in 2007.  The Budweiser Clydesdales are huge (1800 to 2000 lbs), majestic, iconic, and world renowned. The Budweiser Clydesdale legacy was started as a gift from two sons to their father. August Busch Jr and his brother Adophus  surprised their father with six Clydesdales on April 7, 1933 to celebrate the end of Prohibition.
When a foal is born, he or she is is usually given a name that starts with the first letter his/her mother's name. We got to see a 6 day old colt named Otto. His mother's name is Rita,  so they didn't follow the pattern. A foal usually weighs 150 lbs. The foal stays with his/her mother for about five months before weaning. A bay coat, white blaze, black mane & tail, and the signature white feathery legs are required to qualify, plus the right disposition.
The foals leave Warm Springs at 5 – 8 months to go to "prep school" in St. Louis (about two hours away) where they live  at Grant's Farm.
When the foal is three years old, he/she travels to Merrimack New Hampshire for the final steps in the training process. By then, it is determined whether the foal will be assigned to one of the teams or be a "hero" horse which is trained for specialized non-team roles.
By the time the horse is four, it will be assigned to one of three teams, based in Merrimack NH, St. Louis MO, or Fort Collins CO.
The horses that pull the beer wagon are all geldings (neutered males). They use stallions from other herds for breeding the Budweiser mares. Adult  Clydesdales eat 50-60 lbs of hay/day, and drink 30 gallons of water.
The tour lasted a little over an hour. Everything is very clean and organized. It is worth seeing  if you ever get the chance.
Returned to the Meyer's home in Booneville, visited some, then followed them out to their country home on 13 1/2 acres about 9 miles East of Boonville. Don grilled hamburgers and veggie burgers (for Sherri and Alina). We had fruit, salad, brownies, and raspberry tea. We ate outside despite a bit of wind.
Just we four are staying here tonight. Did laundry. We have stayed with this lovely couple, Don and Sharon  once before, in 2008. It's always fun to visit people with whom we have stayed before.
It's another "late" night with a big day tomorrow, so "Good night Elizabeth, good night John Boy, good night Olivia, Jason, and everybody else.
Love from the road, in Boonville,
Marie
Some Pictures:
BooneVille 
The baby Clysdale