Saturday, May 28, 2022
Mary Ann and I left Verdi, NV at 9:30 a.m., about an hour and a half later than we intended. Verdi is Northwest of Reno, NV (just inside the border with California) Not everything goes as planned, as we all well know.
Mary Ann had picked me up in her camper van. We loaded my bike onto the bike rack & threw my luggage into the van and away we went on our big adventure. You can see a still photo and a little movie on our website – www.bikeforthecure.org and click on "Daily Messages."
Driving cross country provides us with opportunities to visit people along the way, so our first stop was in Salt Lake City to stay the night with our cousin, Janice Oswald. She had gathered her sister and brother and their spouses for pizza and a visit. We hadn't seen each other for so many years. We stayed up way too late talking & laughing. At about midnight lightning and thunder ushered in a rainstorm that lasted the night and stayed with us until we got to Denver the following day.
Sunday, May 29,2022
We rose at 6:03 a.m. and were on the road by 7:00 a.m. We found a gas station in Salt Lake City that had diesel for $5.13, so we filled up there. That was the best price we saw all day.
We drove Southeast to Grand Junction, CO where Charlotte Reicks and Marie Nemec hosted a lunch for us. A few members of their local HD support group were there: Larry, Judy, and Eric Luebke; Vince Birth; and Hope Chynoweth. Larry is the Chairman of the group, and comes from a family with HD. He has lost siblings and nieces to HD. In the last two years, Vince lost his wife April and his step-son Tony to HD. Hope is Heather Chynoweth Farmer's sister. She and Heather rode the "Pedal the Gulf" Bike for the Cure in 2013. That was from Galveston TX to Jacksonville FL. Heather, who is a Physician's Assistant, introduced Hope to HD.
We stopped for diesel fuel in Palisade, just East of Grand Junction. Diesel was $5.13/gallon. Marie had recommended stopping there before leaving the Grand Valley. Our drive from GJ to Denver was "weather eventful". We went from pouring rain to hail to sleet to snow and finally partially clear skies on the east side of Denver.
Mary Ann got online and found us an RV park in Fort Morgan, about 70 miles beyond Denver. We got there at about 8:00 p.m. It took us about 30 minutes to park, make up the beds, put on our PJ's, brush our teeth & get in bed.
Sherri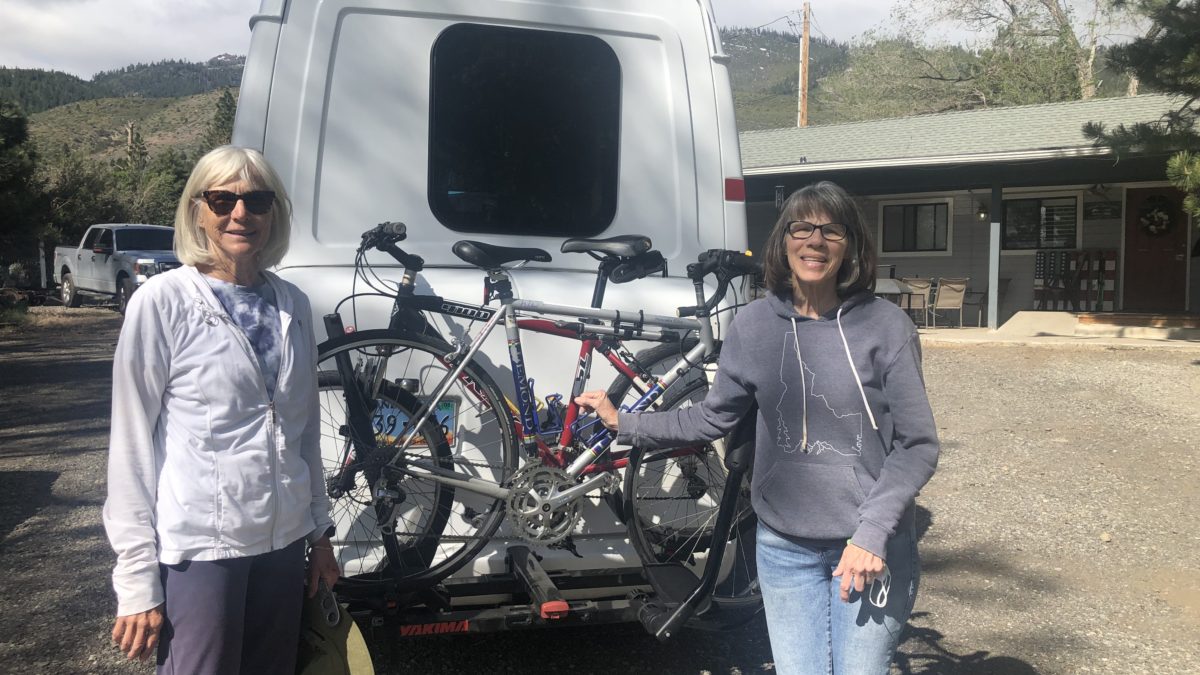 First step of the ride is to get from Nevada to North Carolina. The ride to the ride has started.